Devoted to SFA
An Interview with Dr. Peggy Wright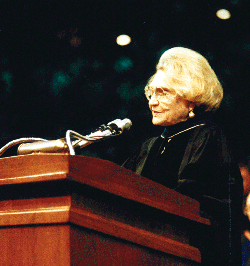 Before she fell for Tom Wright, Peggy Wedgeworth fell for SFA. Tom has endured this first love with understanding; he shares it! This conclusion is quite evident when talking with the couple. As major benefactors of the university, the Wrights have long felt and expressed their deep appreciation for both their home town and home gown. "SFA means so much to us and so much to the town. We are all fortunate to live in a community with a university," said Mrs. Wright. "It enables us to have a quality of life that we would not have otherwise."
Mrs. Wright was honored by the SFA Board of Regents with an honorary doctorate in 1997. It was for what Hollywood calls, "a lifetime achievement award." Peggy entered SFA earlier than most: "I began in the Demonstration School at an early age. It was a part of the college from the very beginning, and by the time I entered it was considered one of the most advanced schools in the state. Even though we were deep in the Piney Woods, the ones of us who were fortunate enough to be in the Demonstration School never felt our education was anything but the best." [I have a picture of Peggy as a student which she is paying me to suppress!]
Peggy Wright's honors and positions are too numerous to mention; she has held offices in the Alumni Association, the Foundation, and other important volunteer support groups. She served as a member of the University's Board of Regents from 1973-1983 and 1987-1993, and even chaired the Board on two occasions (1980-82 and 1989-91.) Peggy and Tom Wright have demonstrated their devotion to SFA with generous gifts, the most recent being for the arts program.
"I believe that a college education is more than just the activities in the classroom," said Dr. Wright. "Dr. Birdwell certainly believed that the whole person must be developed. I greatly admired the focus and devotion to his mission which Dr. Birdwell exhibited. He was a father figure to the students. We felt that he treated us as if we were his children. I know the college students felt that way, but we did too, even in the early grades."
"Interrupting my college career to be married, I returned to complete my degree in 1944; Tom was overseas at that time. Nacogdoches and SFA were such a close family affair then, both being ver small and dependent upon each other for survival. It is difficult to have the same kind of relationship now, with the school being so large, but every effort should be made to insure that SFA and Nacogdoches continue in perfect harmony their mutual journey toward excellence and a superior quality of life."
At the age of 12, Tom Wright moved from Virginia to East Texas where his father founded Texas Farm Products Co. When the couple became engaged, Mrs. Wright was attending SFA, and he was in the U.S. Army. Tom served five years in the army, twenty-nine months of which was in European combat zones. He was discharge from the army in 1945 with the rank of major. Tom Wright retired from day to day operations in 1988 but remains chairman of the board of Texas Farm Products Co. His nephew Bud Wright is now President and CEO of the company, and a first cousin, Ray Rinker, is also a lifetime member of the family's management team. Texas Farm Products have made several grants to the Agriculture Department over the years.
The Wright family has also given generously to SFA. The Tom Wrights have jointly endowed the Wedgeworth-Wright Lecture Series at SFA. I have had the honor of working with them for some years as they brought distinguished speakers to the campus. In 1989, the Wrights brought former President Jimmy Carter to the SFA campus for the lecture series. This type of exposure for our students is invaluable. There is also a Dick Wright Athletic Award Fund, named for another member of the family.
SFA could use more friends like the Wrights.