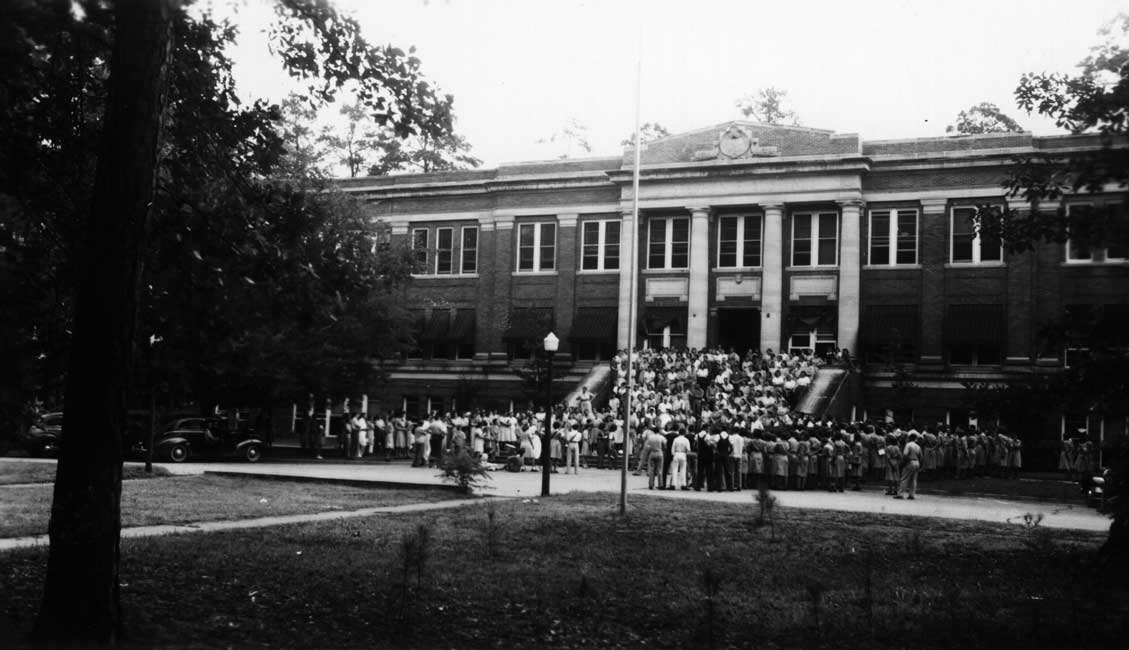 First associated with the Women's Army Auxiliary Corps (later to become the Women's Army Corps), these soldiers came in groups of about 200, living in campus facilities and attending classes in the Austin Building. The school operated for a year from the beginning of 1943 to early 1944. Once it closed, virtually nothing was left to remind the community of its presence until a state historical marker was dedicated on-campus in 1995. Today, more than fifty years after the end of World War II, the school is largely a hazy memory in the minds of a few local residents–a forgotten moment from days gone by.
Thanks to SFA's History Department, considerable information has been gathered over the past few years. My own oral history work has resulted in several interviews with former WACs stationed here and local citizens who recall that period in SFA's history. In addition, Karen A. Kaemmerling, a former MA student, documented the Administration School in her 1996 master's thesis. This, along with a few scrapbooks in the East Texas Research Center at Steen Library and news reports in the Daily Sentinel, provides us with the basic story.
It began in 1942 when Dr. Paul Boynton, who had only recently taken over as president after Dr. Birdwell's retirement, sought some type of military installation to help the college get through the war. He feared a drastic decline in the male enrollment as young men went off to war. Fortunately, he was able to arrange for the first women's administration school in the nation to be located on the SFA campus–hence, its designation as "WAAC Branch Number 1, Army Administration School." The purpose was to release men for other duties by training women for administrative work.
Like any military installation, the Administration School drew personnel from throughout the nation. The commander, Lt. Col. Thomas W. Childs, arrived in Nacogdoches in late January of 1943. Captain (later Major) Ellen Bailey of Houston was the highest-ranking female officer. The original staff was composed of twenty-one regular Army officers and twenty-one WAAC officers, plus forty WAAC enlisted women. According to Ms. Kaemmerling, several hundred persons, including civilians, were involved in the operation of the school. It was a microcosm of America at war, with people coming to Nacogdoches from all over the country.
Among the first to arrive here was a young Jewish woman from Philadelphia, Yetta Herst. Before entering the WAAC in the fall of 1942, Ms. Herst did office work for the State of Pennsylvania. She took her basic training in Des Moines, Iowa, and then came to Nacogdoches to help set up the school in January of 1943. As a part of the headquarters company, she performed the same kind of office tasks she had done earlier. She rapidly rose to the rank of sergeant.
"I lived in the former band building, which we called the 'WAC Shack,'" she said. "My life didn't change much because I had always done office work, except for the operation of a telex system which we used extensively," she added.
Apart from her work, life in war-time Nacogdoches was amazingly calm. She lived in a private room, ate in the mess hall (staffed by local civilians), and spent her leisure time listening to the radio, going for walks, and visiting downtown stores. She left Nacogdoches in early 1944 when the school closed, ultimately spending the rest of her service time at Camp Walters near Mineral Wells, TX.
Although she did not meet many civilians while here, Ms. Herst did make one good friend: Mrs. Gertrude Harris, who, along with her husband Lou, operated a women's clothing store. They continued to correspond after the war, and Ms. Herst even visited Nacogdoches occasionally over the years. She also attended the WAC reunion during a 1992 symposium at SFA.
Lt. Marguerite Crouse of Marshall also served on the permanent staff for the duration of the school. She joined the army because she believed it was her patriotic duty to do so–especially since most of her cousins were females. "We didn't send many men off to the war," she said.
"My father didn't like the idea of my joining the army," she noted, but her mother offered encouragement. After attending Officers Training School at Des Moines, she was assigned to Nacogdoches, only eighty miles from Marshall. As part of the teaching staff, she handled courses on filing and military finance.
Classes, which met five and a half days a week, usually numbered from thirty to forty students. Other courses included military correspondence, furloughs and passes, typewriting, and service records.
Lt. Crouse described her stay in Nacogdoches as "quite pleasant." As an officer, she lived off-base in a private home on North Street. In addition, she enjoyed a full round of social events. When asked how her army experience affected her life, she noted: "Being in the WACs changed my life. I grew up. I became a more tolerant person, and I learned many important lessons. I learned that there was life beyond Marshall, Texas." After the war, she married a businessman and traveled extensively.
One recruit who came here to study was Clarice Fortgang, a native of Brooklyn, NY. Her class, number 4, came from Fort Oglethorpe, GA. Enroute, they learned that they were going to a college in East Texas--some place with the hard-to-spell name of "Nacogdoches." Upon arriving at the Southern Pacific depot, they marched to the campus, accompanied by a number of local residents. Eventually settled into various quarters, they found themselves in a far from war-like environment.
Ms. Fortgang was assigned to a large room with seven other recruits, although she later had a room to herself. "We just luxuriated all over the place," she said.
She continued: "We came out of basic where we shared everything and had hardly any elbow room to walk around in, and here we were rolling around in these great big rooms, with semi-private baths and showers, and our own sinks in the rooms."
Here for only six weeks in the spring of 1943, she was impressed by the beauty of the location and friendliness of the townspeople. In addition to studies, recruits participated in swimming parties at nearby lakes, hung out at a USO-type club, and went to local movie theaters. While viewing "Stagecoach" at one movie house, she was amazed at how young people in the audience "talked back" to the actors on the screen.
"If the heroine indicated that she was flirting with the hero, and he was oblivious to any of her overtures, the audience let him know what was taking place," she laughed. "They shouted, 'Hug her, kiss her.'" "There was more taking place in the audience than on the screen, and it was just hilarious," she added.
More poignant were her memories of a college graduation she attended. The graduates, mainly females, marched in with their caps and gowns, accompanied by the faculty. This led her to remark: "Here we were in the throes of war and they were having their big day in the saddest of times. That really was something of an ordeal for me to watch--I was so deeply affected." Years later, Ms. Fortgang (now Mrs. Monroe Pollard of Phoenix, AZ) published an account of her experiences entitled Laugh, Cry, and Remember.
The WACs themselves put on shows the night or so before their own graduation. Each class would prepare a program of skits and songs which the public was invited to attend. These were usually held in the high school auditorium on Washington Square. The laughter and poignancy of those moments have long since faded, but the memory of those times when young American women served their country should not be forgotten. Everyone around today should seek out the historical marker behind the Austin building and spend a little time reflecting on those moments in our history.